R & D generation, reserve generation, promote the generation

NB Group Co.,Ltd, formerly Shandong NB Group Co., Ltd...

To build international brands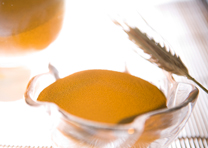 Using glucose syrup and yeast extract as raw materials, by microbial fermentation, and then through membrane filtration, crystallization, centrifugation, drying process, food additive vitamin B2 (riboflavin) was produced. The product was stored in moisture-proof carton or fiber drum packaging with two sub-layers—the outer carton or drum, the inner layer of low density polyethylene thin black bags, and avoid light when being packed.
| | |
| --- | --- |
| Executive Standards | Specifications |
| GB 14752-2010 | 98.0%~102.0% |
Description
This product is orange-yellow crystalline powder, slightly smelly and bitter; low water solubility, almost insoluble in water, ethanol, chloroform or ether; soluble in sodium chloride solution, easily soluble in dilute sodium hydroxide solution, easily dissolved in alkaline solution, stable in strong acid solution, decomposing irreversibly in light and UV radiation. Degenerating rapidly when in alkaline solution or exposed to light.
This product can be used in the fields of pharmacy, food and fodder. It can promote development and cell regeneration, prompte normal growth of skin, nails and hair, help eliminate inflammation inside oral cavity, lips and tongue, improve vision, release eye fatigue, and help the metabolism of carbohydrates, fats, protein by interacting with other materials.
solution or exposed to light.