R & D generation, reserve generation, promote the generation

NB Group Co.,Ltd, formerly Shandong NB Group Co., Ltd...

To build international brands
The 2013 product promotion held solemnly
Article Source:
NB Group

Views:

8009

Time:

2013-3-26 0:00:00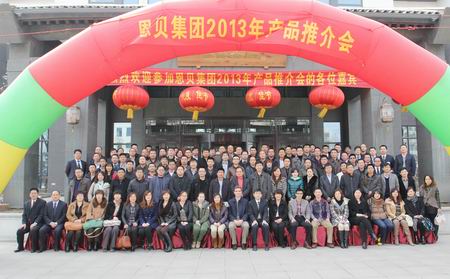 On 23 March NB Group 2013 new products promotion took place in Zhiweizai hotel in Zou village. Hao Changming, Chief Executive, Zhu Cuiyun and Liu Hongxin, Deputy General Managers, Yan Tongxin, General Manager Assailant, Wang Zhen, Manager in R&D Centre were present, so were agencies representatives, partial suppliers and leaders in our company and so on over 100. And Liu Hongxin was charge of this conference.
At the beginning of the conference, relevant advertising videos were played and then Liu simply addressed the general condition of our company. He showed his great thanks and enthusiastic greeting to all people who showed up today and hope in the following days he could work with them hand in hand to create a win-win prospect.

Then, Hao Changming, Chief Executive, made an important speech as to development plan, product technical characteristics, and new product development. He first expressed sincere thanks to agents and manufacturers who made great contributions to NB's sales and be close friends for so many years. Afterwards he pinpointed the advantages of product technology and R&D in detail, and announced to all that the heating center project had commenced, beckoning a bright future and wide perspective. He stressed that it will be more competitive and arduous in feed additives industry in 2013. therefore he hoped that customers and NB would gain a clear understanding of the situation, take out our confidence hand in hand, and with market as orientation, product as main line and system as support, to firm strategic partnerships deeper, to expand NB's career continuously and to achieve win-win development!
Next, Hao Changming, Chief Executive, Liu Hongxin, Deputy General Manager, and Wang Zhen, Manager of R&D Center gave particular answers to a series of issues raised by visitors. Our staff carefully made records of customers' problems, to fully understand the customer's demands, put ourselves in their position, and relieve their doubts, in other words, to obtain a fixed confidence in a long-term cooperation with our customers. Basically, we selves should put the developing concept-- "to be a reliable supplier" into our hearts.
After the meeting, NB Group arranged guests to visit theBiotechnologyIndustrial Park, the secondary fermenting workshops in Science andTechnologyIndustrial Parkand drying workshop. With the narrator's commentary, our guests experienced our service based on science and technology, customers and quality. After the visit, many guests spoke highly of NB especially about products quality and good credit and expressed a quite pleasant cooperation with NB, which laid a solid foundation for long-term cooperation with us in the future.
In that afternoon, NB Group had a banquet in Tongle Hall in Zhiwei restaurant for the success of promotion of new products. Under Liu Hongxin's proposal, everyone toasted together for a better tomorrow with NB.
The promotion was a high-profile event. NB was brilliant yesterday, wonderful today. That owns to NB 's constant perseverance and innovative development, good product quality, loyal service to our customers wherever they are from. And we believe NB will be more glorious tomorrow.